Build Total-Body Fitness And Learn Effective Self-Defense Skills In Our Adult Martial Arts Classes
Are you tired of your boring workout routine? Are you looking for a better way to learn self-defense skills in a safe, ego-free environment?
Well, at Chosun Black Belt Academy, we have all of that and so much more.
Our Adult Martial Arts classes are the perfect way for anyone ages 13+ to take on action-packed training and learn something new every single day. All experience levels are welcome.
Come see us here in Franklin or simply fill out the short form on your screen to learn more!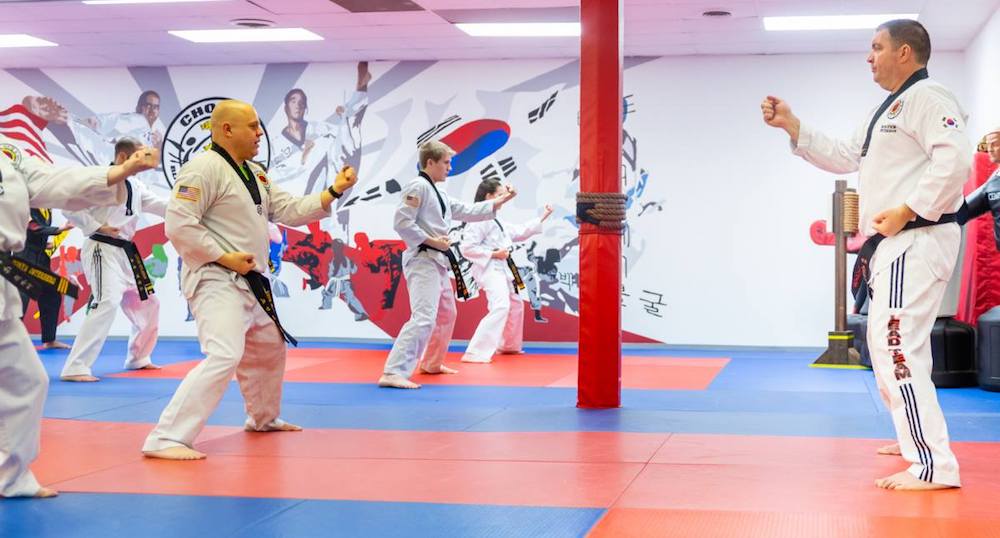 What Can You Expect From Our Adult Martial Arts Classes?
Our goal from day one has been to help men and women across our community challenge themselves and learn how to stay safe in any situation. Our Adult Martial Arts classes are setting you up for success with the help of professional instructors and a step-by-step approach to self-defense.
Whether you're a complete beginner or a martial arts veteran, we're here to offer hands-on instruction as you learn the ins and outs of traditional disciplines and modern-day self-defense.
We're helping people all across Franklin learn:
Effective striking and self-defense skills
Improved situational awareness
Boosted confidence in all aspects of life
A great sense of accomplishment after every class
PLUS, We're Giving You The Chance To Take On A Total-Body Workout Every Time You Train

Our Adult Martial Arts classes are held in a high-energy environment where you can keep your heart racing and your body guessing each and every time you train. We're combining the best aspects of strength training, speed and agility work, and total-body athleticism.
Our classes here at Chosun Black Belt Academy can be tailored to meet the needs of any skill set. We're working hard to help you build your skills one step at time.
Come see us today for:
Total-body muscle toning
Functional strength
Improved heart health and endurance
Healthy weight loss and fat burning strategies
Get Started Today With The Best Adult Martial Arts Classes In All Of Franklin!
If you're ready to get more out of your workout routine, come see us today at Chosun Black Belt Academy. We're helping men and women all across Franklin find success and we can't wait for you to be next.
Learn more about our Adult Martial Arts classes today by simply filling out the short form on your screen today!