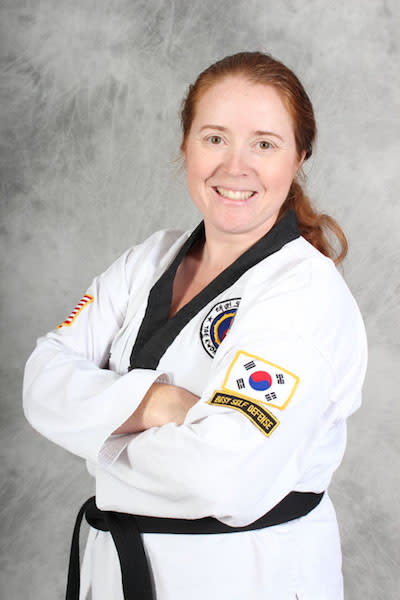 Sahbumnim Tonya Osterberg
Mrs. Osterberg is a 3rd degree Black Belt who has been in Tae Kwon Do since 2009 and her son Jacob is also is Tae Kwon Do. She is originally from Baraboo, Wisconsin.
Why did you start TKD? It is something that I've always wanted to do. I also joined to gain self-confidence and exercise.
What is your favorite part of studying the martial arts? Surprising myself by what I can accomplish! I also love the gymnastic component of Martial Arts.
What is your favorite part of teaching? I love to watch the look on the students' faces when they learn something new. Favorite Kick? Blindfolded Jump Reverse Hook Kick
Best accomplishment in TKD so far? Completing my 3rd degree Black Belt test with a brick break
Future goals for TKD/martial arts training? Master Instructor
Misc info: I enjoy running, yoga and spending time with my two children.
Motto/philosophy of life? Stay positive, don't sweat the small stuff.
Advice to beginning students? Stick with it! Don't look too far ahead, keep your mind focused on where you are.