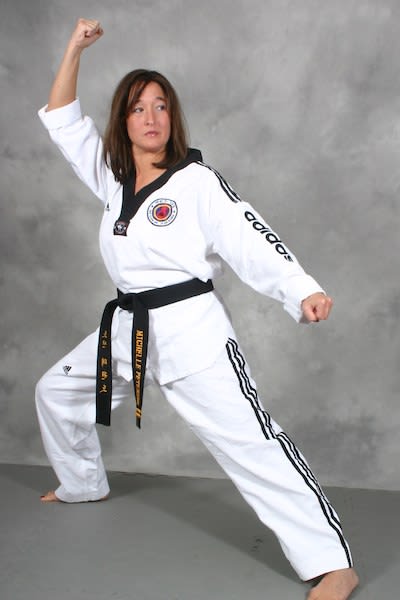 Sahbumnim Michelle Peterson
Mrs. Peterson is a 4th Degree Black Belt who has been studying TKD since 2000. She originally got into TKD for fitness and found out that it offered a whole lot more. She loves learning the self-defense aspects as it helps her feel more confident in being safe on the streets. She truly enjoys teaching so that she can help others succeed as well.
Favorite kick? Her favorite kick is the 360 Back Kick.
Accomplishments in TKD? One of her most memorable accomplishments was attending (and surviving) two seminars with Olympic and World Champion, Master Kuk Hyun Jung.
Future goals in TKD? Mrs. Peterson would love to continue training so that she can someday become a Master of the art. Hobbies, outside interests? Mrs. Peterson loves spending time with her four children, Kai Young Soon, Duncan, Gia and Cael. She also loves cooking, gymnastics, photography, scuba diving, swimming, reading, crafts, and spending time with family…… and did she mention that she loves to spend time with her kids?
Any mottos or philosophy of life? Loyalty is the best investment.
Advice to beginning students? Keep in mind every high rank was a white belt when they started. It is not easy to stick things out and become a black belt, but if you prioritize your training in your life...it is possible!