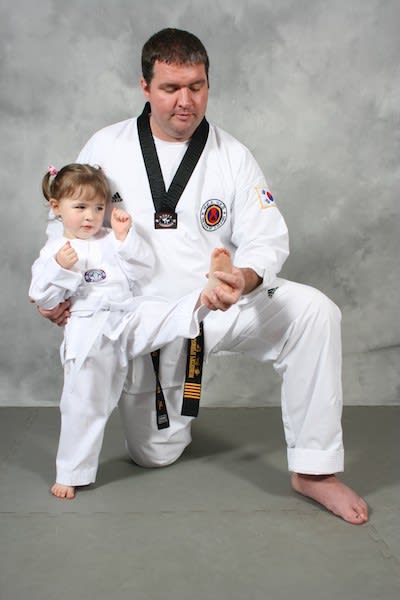 Master Joseph Peterson
I have been teaching the art of Tae Kwon Do since 1994 throughout northern Illinois and southern Wisconsin. I started training in Tae Kwon do as a teenager in order to learn self-defense, as I am not shy to say, I was a huge fan of the old-time "Kung Fu Theater" and similar programs of its likeness. What I quickly found out was that this activity was helping me to feel more confident about myself. My self-esteem was much better, and I started to feel strong as an individual. I continued my training throughout college at Northern Illinois University, which is when I discovered my love for teaching. By the time I had finished college I was in charge of teaching a campus Tae Kwon Do club as well as a University-accredited Tae Kwon Do course. I finished college with a teaching degree in secondary education and immediately began my apprenticeship for instructing Tae Kwon Do. I have been teaching Tae Kwon Do fulltime throughout the Northern Illinois (most specifically Rockford) and southern Wisconsin (Beloit, Janesville) areas since that time.
I have continued to study in Tae Kwon Do throughout my life, as well as RyuKyu Kempo and Kyushojitsu. In 2018, I travelled back to Korea and had the honor of being promoted to the rank of 7th Degree Black Belt. Although I have received the title of "Master" in Tae Kwon Do, I will always see myself as a "student" of the arts first and foremost.
I am very fortunate and happy to have such wonderful, dedicated students at Chosun Black Belt Academy. I look forward to continuing to study martial arts and pass on my knowledge to those that would care to study along with me. By teaching I have become a much better student. By continuing to train, I have realized how much I have to learn. Remember to always train and seek knowledge with the enthusiasm of a White Belt. For those who teach or would like to teach, remember, as a wise teacher once said, "If you would like to keep what I have taught you, give it to others.