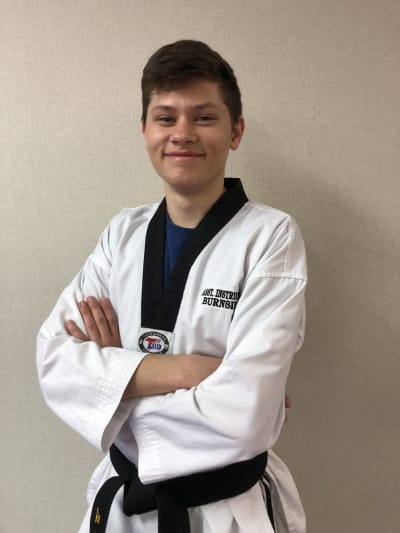 Instructor Tyler Burnside
Instructor Tyler Burnside
Mr. Burnside is a 2nd degree Black Belt from Milwaukee who began training in Tae Kwon Do in 2011, at the age of 9 years old. He started learning how to teach through the Chosun S.T.O.R.M. program, a leadership skills Instructor program that mentors young students on how to pass on skills to others through teaching.
Why did you start TKD? As a kid I grew up watching shows such as Avatar, The Last Airbender, along with the old Teenage Mutant Ninja Turtles. With this came a passion of wanting to learn different martial arts.
What is your favorite part of teaching? My favorite part about teaching Tae Kwon Do is seeing the kids I teach grow and refine their skills over time.
Future Goals for TKD? Becoming a Jr. Master
Favorite Kick? Wall climber kick (stepping off of someone or something to elevate even higher than a regular jump)
Best accomplishment in TKD so far? Completing my 2nd degree Black Belt test and being a part of the Chosun Family