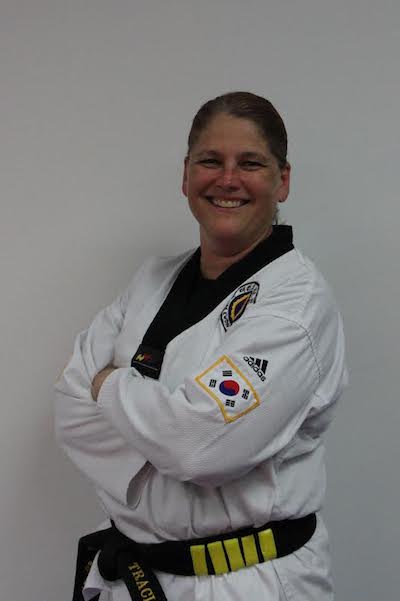 Instructor Traci Beaudot
Mrs. Traci Beaudot is a 2 nd Degree Black Belt who has been with Chosun studying TKD
since 2000. She originally got into TKD as the last family member of four to join from
Master Peterson's famous parent offers.
Favorite kick? Her favorite kick is the 360 Back Kick.
Best accomplishment so far in TKD? Completing 2 nd Degree test with no other
candidates.
What is your favorite part of studying martial arts? She loves working out with some
really fantastic people – both adults and kids whether teaching or participating in class
herself.
What is your favorite part of teaching? She loves learning from both the older and the
younger students while she is teaching. TKD offers the opportunity to grow not only in
the art itself but also in our lives. We learn how to be good partners, how to encourage
each other, and to be okay with our strengths and weaknesses.
Future goals in TKD? Mrs. Traci Beaudot continues to train to be an example to other
students to continue to get up after falling down.
Hobbies, outside interests? Mrs. Traci Beaudot loves spending time with her family.
She also loves spending time outside anyway she can. She can be found out in her yard
even if it is raining or helping shoveling snow away from the dojang door.
Any mottos or philosophy of life? Begin as you mean to go on. If want be a great black
belt you must first be a great white belt.
Advice to beginning students? You are capable of being what you want. Keep trying.