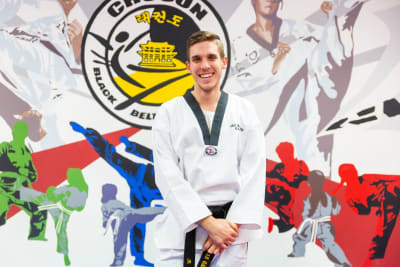 Instructor Emiljan Gajic
Mr. Gajic is a 1st degree Black Belt from Milwaukee (born in Crna Gora, Montenegro) who began training in Tae Kwon Do in 2011, at the age of 11 years old. He started learning how to teach through the Chosun S.T.O.R.M. program, a leadership skills Instructor program that mentors young students on how to pass on skills to others through teaching. Mr. Gajic has continued his teaching while going to college and the University of Wisconsin-Milwaukee, majoring in Biomedical Sciences and minoring in Alternative Medicine, his goal is to become an Interventional Radiology Technician. On his free time Mr. Gajic loves to travel, hang out with his friends, and live life to the fullest.
Why did you start TKD? Like many people, I love to watch tv shows and movies where we see celebrities and actors doing these intense fighting scenes and just being plain AWSOME. So one day I decided that I wanted to be just as awesome as those actors and made my parents sign me up for TKD. I was fortunate enough to live a short distance from Chosun which made coming to TKD very easy. I also started TKD because I realized I was living a very sedentary life style and I wanted that to change.
What is your favorite part of teaching? There are many rewarding aspects of teaching TKD but my favorite part about teaching TKD has to be watching students grown into strong and confident individuals.
Future Goals for TKD? Like many individuals that are already TKD students I want to continue to learn and grow. But just between us, I want to be the best student that can do a reverse hook. If you don't know what that kick is you'll learn it eventually, maybe I'll be the teacher that teaches you it.
Advice to beginning students? I would like to start off by saying, welcome!!! The one piece of advice I have for you is don't be afraid to get to know people. At Chosun we don't just learn more about TKD, we learn about ourselves and the people that we choose to surround ourselves with.