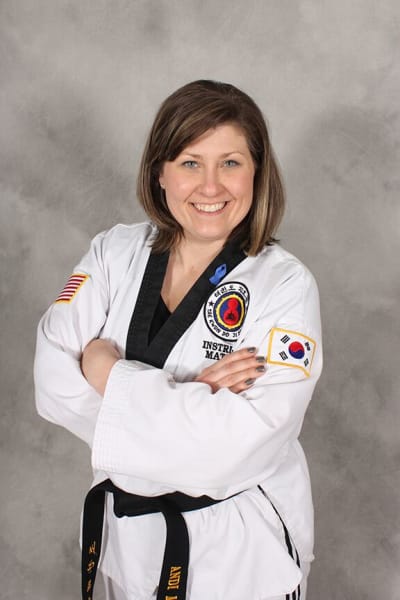 Instructor Andi Matusiak
Mrs. Matusiak is a 2nd degree Black Belt from Greenfield who has been in Tae Kwon Do since 2012. She began training about a year after her son started in the Little Ninja program. She eventually earned her Black Belt and started teaching, using many years of Cheer coaching to her advantage in working with the young students of Chosun. Mrs. Matusiak has also been joined by her father, making it a 3-generation activity. She likes working with the sais and training students on the Chosun Demo Team.
Why did you start TKD? My husband and I had started my son when he was 4 to socialize him before beginning school. After a year of helping him train, Master Peterson finally convinced me to step onto the training floor.
What is your favorite part of studying the martial arts? Learning that sometimes thing are not always what they seem to be and that there is always something more behind everything we do What is your favorite part of teaching? Seeing the student that has struggled or felt like they don't belong, they do the smallest thing to bring a smile to their face and they feel so proud of themselves
Favorite Kick? Reverse Hook Kick
Best accomplishment in TKD so far? Having Taekwondo to share with my son and my father. There have been so many moments that I will cherish all my life
Future goals for TKD/martial arts training? To continue to challenge myself both physically and mentally that age is just a number
Misc info: Enjoys music, acting, theater, competing in TKD tournaments throughout SE Wisconsin, LOVES anything sparkly!
Motto/philosophy of life? You are stronger than you think. Don't let your inner voice of doubt ever deny you the experience of falling and getting back up.
Advice to beginning students? You'll be surprised on what you can accomplish just by stepping out on the training floor